Thermablok® Aerogel Thermal Insulating Strips for Commercial Applications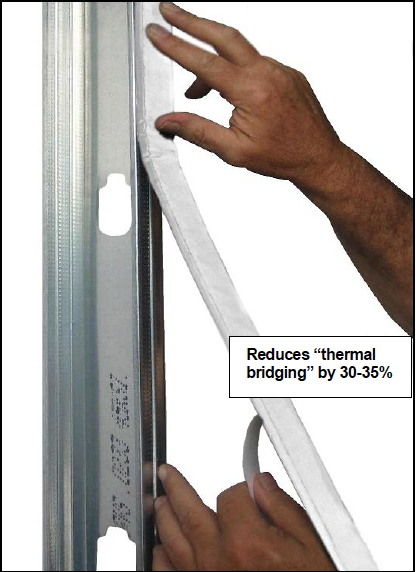 Thermablok aerogel insulating strips may be installed to the stud either on the exterior or interior side of the wall framing.Insulate the full length of framing members. Apply to all wall, floor or ceiling framing edges: headers, footers, trusses, window and door frames, floor joist and roof rafters. See Installation instructions page.
Why is Aerogel The Most Effective Thermal Insulator Known?
The solid component in silica aerogel consists of tiny, three-dimensional, intertwined clusters.  They comprise only 3% of the volume and are very poor conductors.  Air in microscopic pores make up the remaining 97% of aerogel's volume.  This air has very little room to move, inhibiting both convection and gas-phase conduction.  These characteristics make aerogel the world's lowest density solid and most effective thermal insulator.
The patented, U.S. made Aerogel in Thermablok is unique, as it has virtually no compression compared to other Aerogel and of course if the air is squeezed out any insulation it no longer insulates.
New Construction / Remodeling / Expansions
Standard Applications for Thermablok® Aerogel Insulation
Thermablok aerogel insulating strips can enhance or replace continuous insulation, yielding equivalent results while providing the certainty of using environmentally friendly materials. the Thermablok strips can be attached to the framing members on the inside face, the outside face or both.
See Insulation Instructions in the top banner links on this page.

Thermablok Sheets provide an R-Value of 10.3 per inch of insulation. Thermablok strips are compatible with Acoustiblok sound barrier material.
Thermablok® Strips and Sheets can be used with:
Fiberglass batt
Fiberglass sheet
Radiant barrier insulation
Foam insulation
Organic batt insulation such as cellulose insulation
Benefits of Thermablok® Aerogel Insulation
Extremely high resistance to compression
Properly adding Thermablok to a wall can increase its R-value by over 32%
Significant savings in energy costs
100% recyclable
Contains no ozone-depleting substances
Cradle to Cradle Silver Certification
Uses 30-percent recycled content
Composite material consisting of more than 95-percent air
Naturally hydrophobic, unaffected by moisture, mold or water
easily applied via stick-on backing
Class "A" fire rated
Economical
Virtually no weight means low shipping cost (and low emission)
Adds acoustical integrity
Unaffected by age as it does not react with moisture in the atmosphere
Made in USA and covered by U.S. patents
Contact Thermablok Technical Support regarding your specific application requirements